Termux
Remotely Control Any PC With Termux | Best Method 2023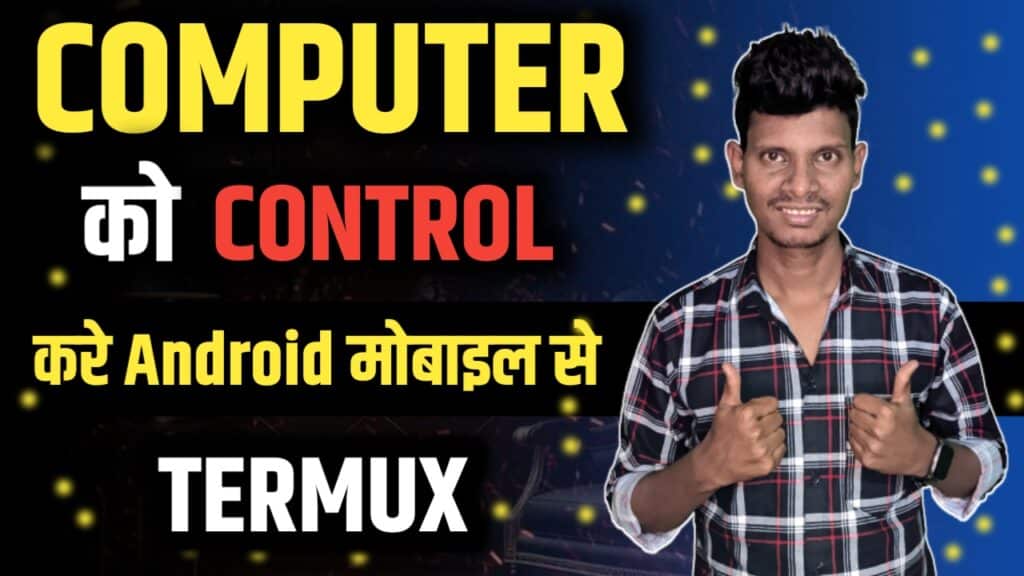 How To Remotely Control Any PC With Termux
If you want to become a hacker or want to Remotely Control Any PC With Termux then this article is just for you. Because the true meaning of hacker is his knowledge. Not from any certificate. Therefore, you should always keep improving your skills in hacking.
The best for this is Kali Linux and Parrot OS. But for this we must have a PC. If you don't have a computer or laptop then you can do it from your mobile also.
In this article we are going to talk about Termux, the best mobile application for hacking. If anyone does not know Termux. Then definitely read this article. In this we will read what is Termux and its use.
Table of Contents
What is Termux ?
Termux is an Android Terminal Emulator app. Which provides Kali Linux Environment. The commands of Termux are similar to those of Kali Linux. So if you do not have a PC for Kali Linux. Then you can get started with Termux.
Actually, there are many apps available on the internet to install Kali Linux in mobile. But for that at least 1GB storage is required in the mobile. Along with this, the mobile also has to be rooted. After rooting the mobile, there are many problems in the mobile.
But for Termux it is not necessary to root the mobile. The size of this app is much less than 1MB. If you have 200 MB free in your mobile. Then you can use it very easily.
Through this, you can use many tools and packages of Kali Linux from your mobile. Which makes hacking from mobile easier. Many more addons are also available in it.
Use of Termux
Many people must have come to know what Termux is. But this may make some people ask why it is used. Or what can be done with it. Then let us know the use of Termux
To learn hacking or to start
To perform practical hacking
To practice the Kali Linux Operating System
PC is not always with us. But the smartphone is always with us. In such a situation, to carry out an incident like hacking from a smartphone.
Termux related questions and answers (FAQ)
1. What needs to be done before using Termux or Remotely Control Any PC With Termux?
To use Termux, Just click on below download button and install app in your phone.
2. Does the mobile have to be rooted to use Termux APP?
No, not at all! You will not need to root your mobile to use Termux APP.
After installation, you can open Termux. Because it is installed in your mobile. Termux may take some time to open the first time you open it after installing it. So wait a bit. After opening Termux, it has to be setup.
I hope you liked the introduction to Termux. If you want to ask anything about this or related to this. Then you can ask through comments. We will reply to your comment soon.
How to setup Termux?
Let's setup Termux. And make mobile a virtual lab of hacking. For this we have to follow some commands. So we will look at the commands one by one in each step.
To setup Termux in mobile, click on the button given below and read my post on termux customization.
What is Koadic ?
Koadic is a post-exploitation framework for Windows that is open-source and can be found on GitHub. It was developed by zerosum0x0. The framework is written in Python and can produce payloads in JScript and VBScript that can be mapped straight into memory or written to disk.
Lets Start the Installation Process -:
First install Termux Latest APK file from above link and install it on your android phone.
Now install Kali Nethunter in Termux if you dont know how to install then read this post.
Now To open Kali Nethunter in Termux just copy and paste below command in Termux.
nethunter -r
Now copy and paste below commands one by one in Kali Nethunter to Remotely Control Any PC With Termux.
sudo apt install koadic
After installing koadic tool in Kali Nethunter just copy and paste below command in Kali Nethunter.
koadic
Now you will see the below Interface